Fine Arts Building Backfill Project
UMBC is moving ten Humanities and Social Science programs and the CAHSS Dean's Suite into the Fine Arts Building to join the CADVC, Department of Visual Arts, and Interdisciplinary Studies.  This project will renovate nearly 65,000 square feet of space (46% of the existing building).

When the Performing Arts and Humanities Building (PAHB) was completed in 2014, the departments of Music, Theatre, Dance, Philosophy, English and Ancient Studies moved from the Fine Arts Building to the PAHB. In addition, the Dresher Center, the Linehan Scholars program, and the Humanities Scholars program were relocated to the PAHB, vacating 36,100 NASF in the Fine Arts Building (42% of the total assignable building area).
Due to the severe campus-wide space deficit for offices and teaching spaces, the university undertook an interim project to backfill the vacated spaces within the Fine Arts Building. This interim renovation project addressed life safety and systems upgrades in the reoccupied areas of the building. These interim improvements are being funded with operating funds to extend the life of the building until additional funding can be secured for a complete building renovation.
The three year planning and construction project, to be completed by the Summer of 2016, will:
•   relocate new programs into the building
•   renovate 40,218 NASF of teaching, study, and office space
•   create or renovate eight classrooms
•    replace three of the building's nine rooftop air handlers (HVAC equipment)
•    renovate four of the building's ten restrooms for compatibility with the current ADA standards
•    replace the roof
The Fine Arts Building Backfill Interim Project begins the strategic goal of the university to consolidate dispersed departments within the College of Arts, Humanities and Social Sciences (CAHSS). This will have an enormous positive impact on the college and on interdisciplinary teaching and research on campus.
For News and Alerts regarding this project Click Here.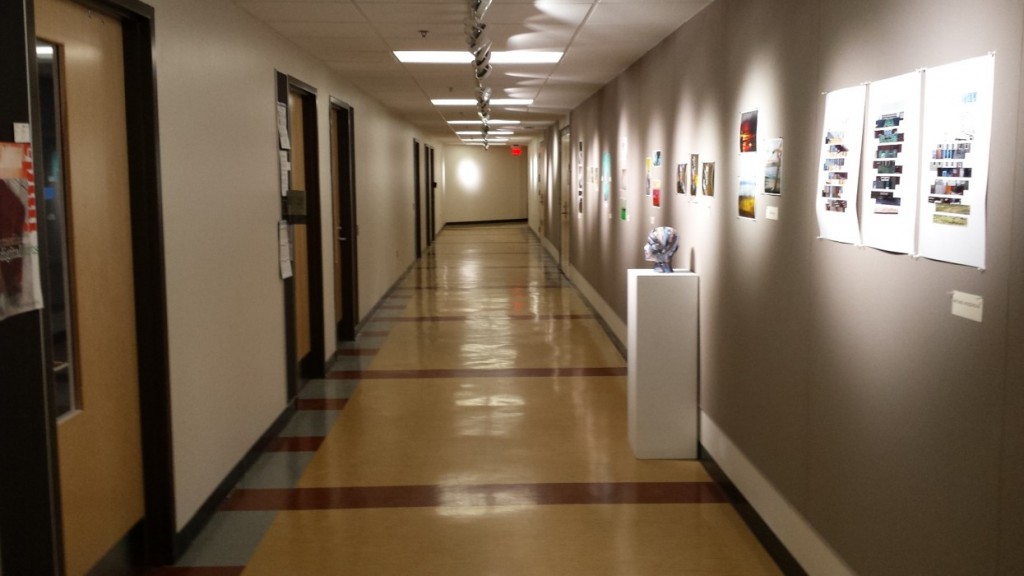 Renovated Corridor in the Fine Arts Building