What will be the VISION for the campus in the future? Facilities Management plans for campus improvements far into the future, based on current and projected needs.  
Planning is responsible for the development and oversight of a variety of planning studies, including:
Feasibility Studies
A preliminary analysis which evaluates in detail a project's technical design, its costs and benefits, institutional and environmental impacts, and funding requirements. The feasibility study is used to evaluate the potential of the proposed project and guide campus decision makers.
Land Use Plans
Land use plans may be required to support the selection of an appropriate site for a proposed new building or a broader evaluation of appropriate land use for the entire campus. Land use planning is integral to creating a beautiful, sustainable and active campus. Facilities Management strives to implement sound land use planning in all decisions  to further the University Mission and to make UMBC a vibrant live-work-learn community.
Thematic Plans
Long-range plans focused on particular areas such as housing, transportation, parking, recreation and athletics, and utilities are developed to support the strategic development of campus.
Facilities Master Plans
Facilities master plans establish a framework for orderly growth and development of capital improvements on campus. In order for UMBC's facilities master plan to be responsive to current and future needs and accommodate changes in the strategic vision, it is updated every five years and completely redeveloped every ten years. The 2009 UMBC Facilities Master Plan Update was approved by the University System of Maryland in March 2010.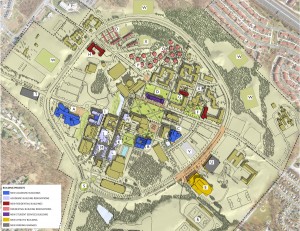 The 2009 UMBC Facilities Master Plan Update includes this illustrative plan showing some of the physical changes envisioned to meet projected enrollment growth over the next ten to twenty years. They include new academic buildings (in blue), renovated academic buildings (in light blue), a new student services building (in violet), a new athletics building (in yellow), and improvements to or new residence communities (in light and dark red). In addition, new recreational facilities and parking structures are illustrated.
For a pdf of the presentation made to the University System of Maryland Board of Regents Finance Committee click here.
Executive Summary of the 2009 Facilities Master Plan Update