The intercollegiate basketball and volleyball programs and the athletics administration have vacated the RAC and moved to the Event Center.  The move resulted in an increase of available space, which UMBC will leverage to enhance the student experience and promote fitness and wellness.  Recreation space will be expanded and building systems will be replaced.
Project guiding principles include:
Create an engaging and inviting student life destination that students see as their own.
Create a facility that reflects pride for students and all UMBC constituents.
Provide flexibility for a wide array of recreational program offerings.
Improve building circulation to accommodate recreation activities and events simultaneously.
Increase opportunities and expand support for intramural and recreation activities.
Locate Retriever Essentials food pantry in a location with expanded operating hours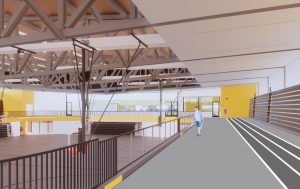 The Retriever Activities Center was built in three phases in 1969, 1975, and 1997. Due to the age of the facility, the plumbing, mechanical, and electrical systems in many areas are obsolete and inefficient. The roofing is beyond its useful life with multiple failure points.
The renovation project includes replacing building systems to extend the useful life of the RAC.  The following building systems will be replaced and/or upgraded:
All roofs
Mechanical systems in the Field house
Plumbing systems in the Field house and pool locker rooms
Upgraded electrical service
Upgraded domestic water service
Upgraded security/surveillance systems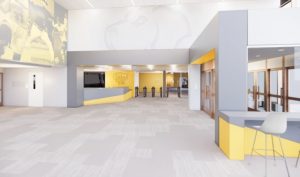 Since the original construction, safety and accessibility requirements have evolved, thus modifications will be required to bring the building into compliance with current codes.  Fire alarm system upgrades will be included as well as measures to remove barriers to accessibility.
The design and selection of new building systems will incorporate "green" principles and energy efficiency.
Interior modifications and finish upgrades will be undertaken to convert former athletic areas into suitable spaces to support other programs.  Design efforts will create spaces to enhance the student experience.
Enhancements to the Recreation program include:
Additional weight training space,
Additional cardiovascular space,
Additional group exercise space,
Four new multipurpose room spaces, and
New general use poolside locker rooms
Enhancements to the varsity aquatics program include new locker rooms and training room.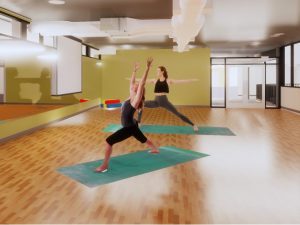 Construction activities began in December 2019 and will be completed by August 2021. The construction sequencing will be phased to allow for continued use of the pool and scheduled recreation activities, as well as maintaining facility operations.