UMBC has begun work on a campus-wide effort to upgrade our utility infrastructure, addressing deteriorating pipes, boilers, electrical service systems, water lines, and site lighting. The majority of UMBC's utility infrastructure is approximately fifty years old and has reached an age and condition where they have exceeded their useful life. Not addressing these systems may ultimately require major repairs and/or replacement to remain functional, risks catastrophic failure resulting in property loss, and threatens the delivery of core services to our community. As the campus continues to grow, even greater demands will be placed on the deteriorating systems until they are unable to support campus buildings.
The urgency for this project has intensified in recent years with the frequency and severity of campus infrastructure failures:
In 2017, a tube within one of the Central Plant's high temperature hot water generators (HTHWG) ruptured, leaving the campus with a shortage of heating capacity in the event of another boiler failure, extreme cold temperatures, or routine maintenance.
Over the past several years, UMBC's electrical distribution system experienced numerous failures that resulted in building and campus electrical outages. In one case, several days of instruction were lost, and key research projects were interrupted and irreparably damaged.
Advancements in lighting, especially in efficient exterior LED illumination, has prompted the university to address both safety and security concerns due to insufficient lighting and reducing long-term operating costs due to reduced energy usage.
Since 2011, twenty‐seven domestic water lines or mains have ruptured resulting in water outages to both academic and residential buildings.
In addition, new state environmental regulations have had a great impact on the campus. In compliance with the Clean Water Act and state regulations, The Maryland Department of the Environment has issued a National Pollutant Discharge Elimination System (NPDES) General  Discharge Permit 13‐SF‐5501. This permit covers State and federal small municipal separate storm sewer systems (MS4s), of which UMBC is an example. Under new state regulations UMBC is required to restore 20‐percent of its historic untreated impervious areas, like roads and parking lots, by no later than 2025.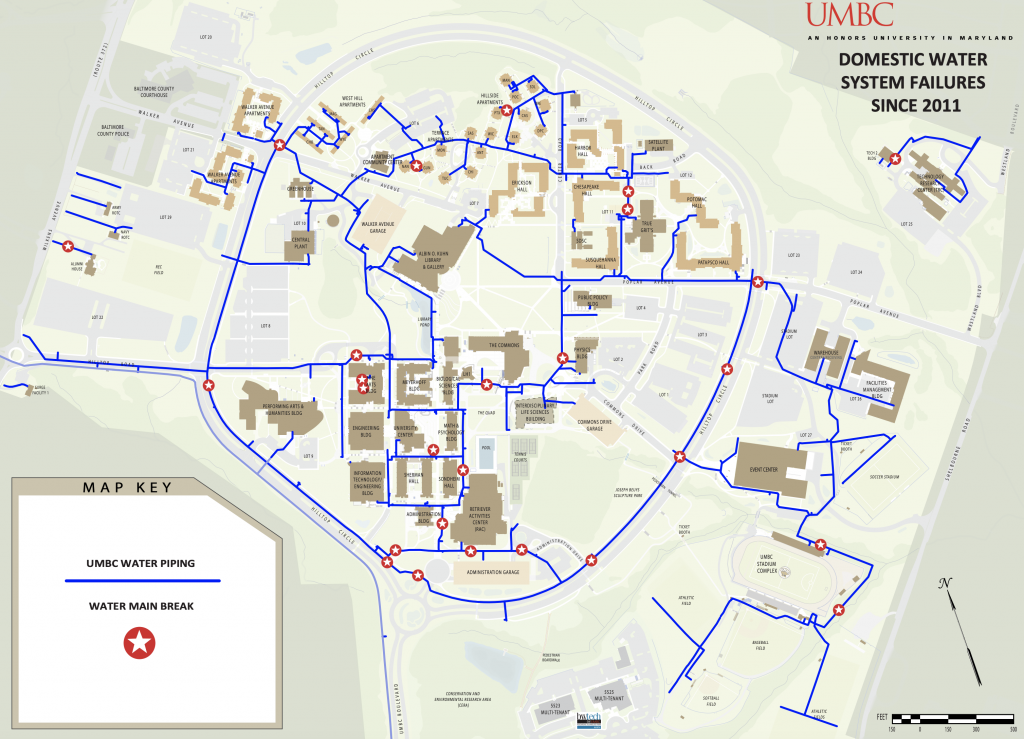 The Campus Utilities Upgrade Project addresses all of these concerns and will:
Make repairs to the network of utility tunnels that provide utilities to the majority of the campus academic buildings, including repairs to the concrete tunnels, replacement of pipe supports, replacement of chilled piping insulation, and repairs to pipe fittings and ball joints that facilitate expansion and movement.
Replace High Temperature Hot Water Generator No. 3, which has been out of service since 2017, with a more efficient boiler, increasing hot water generation capacity and reliability.
Install new components to improve the reliability of electrical distribution and emergency power. This includes replacement of deteriorated transformers and switchgear and upgrading the emergency generator system with a network of small and efficient rooftop emergency generators.
Restore the domestic water system to extend its useful life and provide reliable service. Work includes relining nearly two miles of water piping.
Make improvements to campus exterior lighting, improving visibility, increasing safety, and saving the university operating costs into the future. The project will replace many existing light poles with a new LED light standard and replace deteriorated wiring. It will also target areas of the campus that suffers from poor illumination, enhancing the security of pedestrians.
Construct a new storm management facility, just west of the UMBC Stadium, to enhance the water quality of the Chesapeake Bay watershed and offset eleven acres of untreated parking lots in other areas of the campus. Many environmental strategies will be employed including the construction of floodplain wetlands, conversion of landscaped areas on steep slopes, management of invasive plant species, and stream restoration. In addition, the project will construct a new pedestrian bridge linking the campus core with the stadium providing an accessible gateway to our lacrosse, track and field, softball and baseball practice and competition facilities.
While not incredibly photogenic, this project will have a long term positive impact for the campus. The most immediate Return on Investment (ROI) is system reliability, reducing potential future adverse impacts on teaching, research, and operations. Additional returns include a reduction in costs due to failures, avoidance of insurance claims and premium increases, and a sharp reduction in maintenance costs. In addition, this project will increase efficiency and help UMBC meet its campus sustainability goals.