What is our VISION for the campus in the future?
Facilities Management, with the assistance of the campus community, has completed a new facilities master plan, based on current and projected needs, to guide future campus development.  
2018 Facility Master Plan

The 2018 Facilities Master Plan establishes a framework for orderly growth and development of capital improvements on campus, and is expected to guide planning decisions for the next ten years and beyond. This planning builds upon the successes of the 2009 Facilities Master Plan Update, that led to the development of many of our new academic buildings, renewed outdoor spaces, the Event Center, and recent residential community renovations.
The 2018 Facilities Master Plan (FMP) follows upon a number of other plans that have guided campus growth from its very humble beginnings in the late 1960's. The 2018 FMP serves as:
a framework consistent with the university mission and strategic plan
a cohesive approach to renew existing buildings, upgrade utilities, construct new buildings, and enhance site features
a path forward to support a more sustainable future, and
the basis of our ten year capital plan
Campus engagement is critical to the success of the planning process. The FMP development process was spearheaded by Facilities Management with the close support of the University President and a Steering Committee made up of campus leaders. Critical inputs and reviews were drawn from ten stakeholder groups made up of faculty, staff, undergraduate, and graduate students. These groups focused on key topic areas, like Transportation, Teaching, Student Life, Sustainability, Recreation, Athletics, Student Services, the Library, and Research. Members of stakeholder groups provided observations, specialized data and inputs, as well as made recommendations on goals and objectives.
The Plan is based on seven Guiding Principles. These principles were developed with the support of the Master Plan Steering Committee.
Align campus development with UMBC's strategic plan.
Provide for enrollment growth in an intentional manner.
Assure the campus is welcoming and accessible.
Promote meaningful interactions through thoughtful planning.
Advance carbon neutrality and protect the natural environment through responsible stewardship.
Optimize utilization of existing resources.
Encourage interdisciplinary scholarship and research through purposeful adjacencies.
CLICK HERE for a PDF of the May 2nd Campus-Wide Forum Presentation,
CLICK HERE for a copy of the 2018 FMP Executive Summary.
CLICK HERE for a copy of the COMPLETE 2018 Facilities Master Plan report.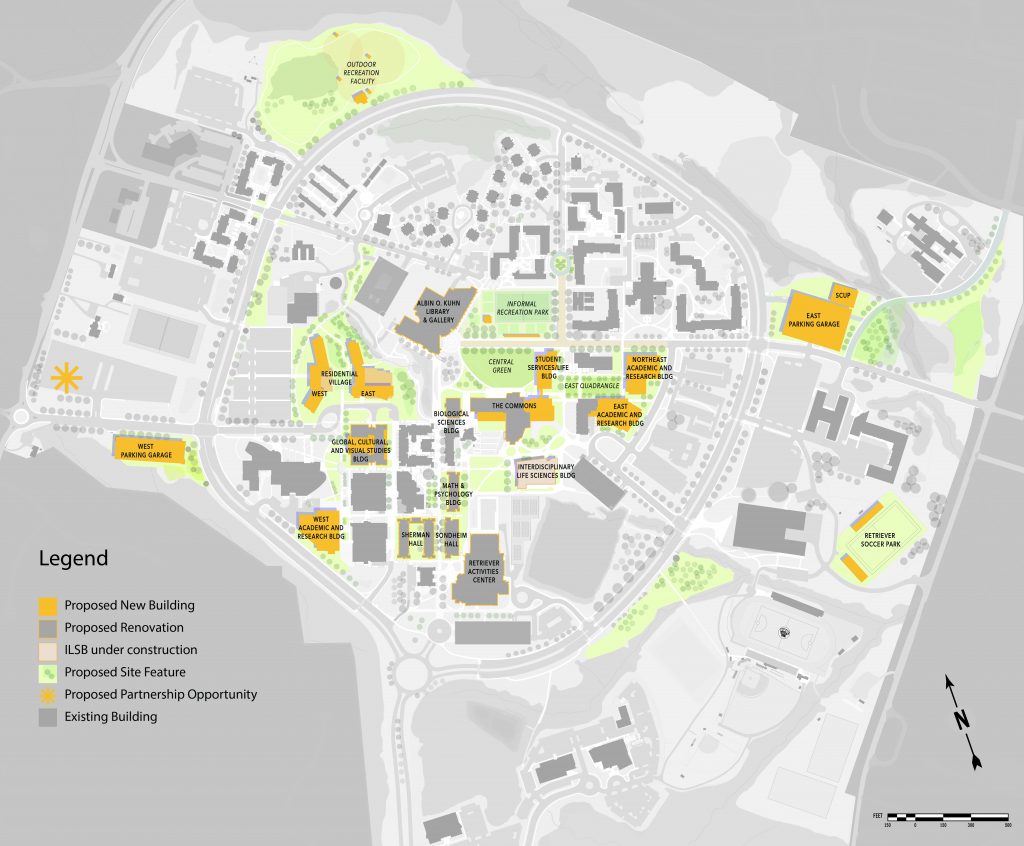 Historic Master Plan Reports
Executive Summary of the 2009 Facilities Master Plan Update