This renewal project will fully renovate all aspects of Sherman Hall to meet the needs of the university for the next 30 or more years.  Sherman Hall houses more than a dozen departments, classrooms and a lecture hall. The scope of work includes:
Replacing the building envelope with a modern, high-performance enclosure to create an energy efficient building in accordance with UMBC's Climate Action Plan
Replacing and upgrading the Mechanical, Electrical and Life-safety systems to meet or exceed current building and energy codes.
Replacing and upgrading the technology components
Upgrading the accessibility, elevators and security
Upgrading the furniture and finishes throughout to improve the experience of all users with improved acoustics, daylighting, views and spatial reconfigurations.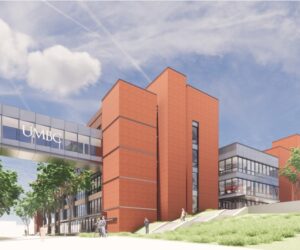 Rendering of Sherman Hall as viewed from Math/Psych
Sherman Hall was built in 1980 and is comprised of over 120,000 GSF.  The brick building is broken down into 2 wings and a connecting link on the 2nd and 3rd floors.  The 3-year construction period will be divided into 2 phases the first of which begins in the west wing and link from Summer 2023 through the Summer of 2025.  Immediately following Phase 1, the east wing (Phase 2) will be renovated and is planned to be completed in Summer of 2026.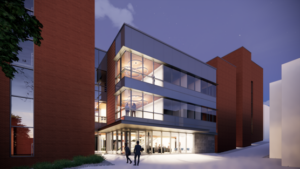 Sherman Hall's new front entrance – opposite the University Center
The wayfinding in Sherman Hall has always been complicated and this project will work to simply the organization with proper signage and connectivity within the building.  By extending the link down to enclose the breezeway at level 1, we will be creating a front door for Sherman Hall.  This addition will house the lobby of the building with student lounge and study spaces.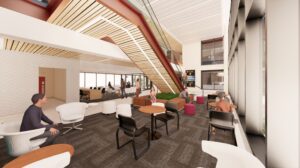 Link lobby addition with student lounge and study spaces
We will improve the student experience by creating lounge and lobby spaces throughout the lower levels of Sherman Hall.  Students can gather to collaborate, find a quiet place to study or have a place to queue before classes.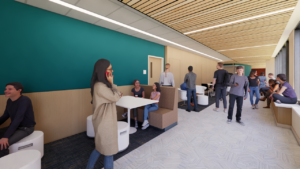 Student lounge, study and waiting area between classes.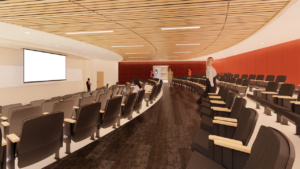 Sherman Hall's lecture hall will be upgraded with new seating, new finishes, new lighting and new AV technology.
Sherman Hall's courtyard will also be renovated.  The new ramps and stairs in the courtyard will provide gathering places and outdoor classroom opportunities at each tier.