The UMBC campus has a new entrance and gateway!
The original campus entrance, along UMBC Boulevard was built in 1966. With the growth of the campus and the increase in vehicular and pedestrian traffic this approach, and especially the intersection of Hilltop Circle and UMBC Boulevard was no longer a safe and efficient route. It also did not provide visitors with a clear and welcoming gateway to campus.
Facilities Management, partnering with campus leaders and campus police, lobbied for improvements for many years. We are pleased to say that the new Campus Entrance will be completed in the Fall of 2015.
Our goal was to create a safe and elegant campus entrance with a transformative, highly functional and memorable design solution. The design solution, including the development of the pedestrian paths and plazas and vehicular approaches provide a point of orientation and provide a distinctive gateway to the campus.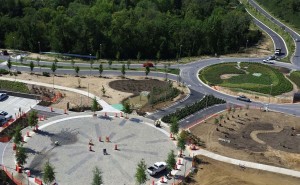 Achieving our Goals
•   improving the safety of the existing intersection at Hilltop Circle and UMBC Boulevard
•   improving the flow of traffic, reducing traffic congestion
•   separating pedestrian from vehicular traffic on Administration Drive
•   removing service vehicles from Administration Drive
•   providing a clearer and direct approach to the Administration Drive Garage for visitors to campus
•   providing improved access to the bwtech@UMBC North research campus
•   enhancing the pedestrian experience upon entering the academic core
Transit with Care
Due to the changes that have been made in the driving and walking patterns, please be conscious that there may be users who are not familiar with the campus or with the round-a-bout. Keep in mind that:
•   traffic speeds are set at 20mph throughout the campus
•   there may be pedestrians and cyclists in the Arrival Plaza
•   there is no parking in the Arrival Plaza, nor waiting/standing on the east side of the circle
•   while vehicles enter the Administration Drive Garage from the Arrival Plaza, the exit is from the opposite side toward the east