Fall 2014 Driving and Parking Update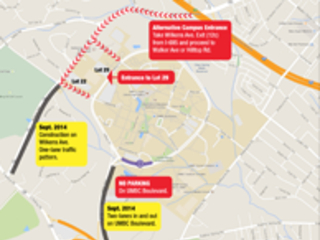 As the Fall semester approaches, we would like to share information about construction projects now underway in and around UMBC that will affect your usual driving and parking. These construction projects will ultimately improve the experience of entering and leaving our campus, especially easing congestion during rush hours; however, there will be some temporary inconveniences during these construction phases.
TRAFFIC
Due to continuing road work on Wilkens Ave. between Rolling Rd. and Hilltop Rd., there will be alternating one-lane traffic until

approximately Sept. 12.



UMBC Blvd. has been converted to two lanes of incoming and outgoing traffic until

approximately Sept. 22

. Please take care to pay attention to new lane changes and signage and use caution when entering campus.

NOTE: Traffic patterns on UMBC Blvd. will change again as we enter the next phase in the Campus Entrance Project, which we will inform you of in the coming weeks.



The State Highway Administration will be performing road work on rt. 195 in both directions throughout the fall. Expect one lane to be closed from approximately 8 a.m. - 3 p.m. during weekdays.
PARKING
Parking is no longer allowed on UMBC Blvd. This change is part of the Campus Entrance Project and is designed to increase traffic flow and improve pedestrian safety.


400 parking spaces will be available in the new commuter parking lot (zone A) at the start of the fall semester. The new lot is adjacent to the Walker Ave. apartment complex and accessible directly from Hilltop circle.



All parking on the inner loop between Administration Drive and UMBC Blvd. has now been converted to faculty and staff (zone D).
Construction on UMBC Blvd. is part of the Campus Entrance Project and will occur throughout the fall semester. When commuting to and from campus, we encourage you to use alternate routes, such as Walker Ave. and Hilltop Rd.
STAY CONNECTED
We invite all members of the UMBC community to
sign up for traffic alerts
on your e2Campus account to get timely updates and important information regarding changes to traffic and/or parking patterns.
Thank you for exercising patience and caution when traveling to and from campus. If you have any questions or concerns, please contact Paul Dillon, Deputy Chief of Police at
pdillon@umbc.edu
or 410-707-6012.