RAC Renewal – need to know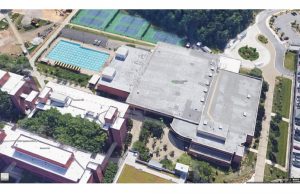 Construction on the Retriever Activities Center Renewal project began in December of 2019 and will last eighteen months. Phased construction has started in the center fieldhouse portion of the building and is expected to be completed by July 2021.
The summer 2020 campus closure due to COVID-19 closed the building to occupants.  This allowed for an expanded construction activities foot print, enabling extra distancing for construction personnel.  Construction phasing was adjusted to mitigate encountered issues with labor and supply chain availability as well as unforeseen discoveries.  Creative adaptation of construction sequencing and scheduling has kept this project moving forward in these challenging times.
Although the campus will be reopening for the 2020 fall semester, the RAC building will remain closed.  Current planning is targeting reopening the RAC building to occupants for the 2021 spring semester.
Please follow all site signage around the RAC building to stay safe during the construction duration.
Accessibility is part of the design process, and we work in partnership Accessibility and Disability Services which supports faculty, staff, students and visitors with disabilities. If you have a concern about accessibility, or want to inquire about a disability-based accommodation, please do so through their website.
Thank you for your patience and cooperation as we work to improve recreation facilities for the UMBC community.
Stay Safe!