RAC Renewal – need to know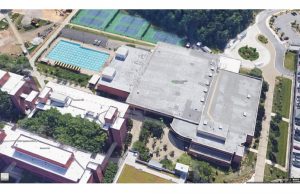 Construction on the Retriever Activities Center Renewal project began in December of 2019 and will last eighteen months. Phased construction has started in the center fieldhouse portion of the building and is expected to be completed by July 2021.
Multi-phased construction sequencing will allow for continued use of a pool and scheduled recreation programs. During construction, the front lobby continues as the main building entry and the elevator will remain accessible.
As you review the building closure plans below, note the following items:
Spaces closed for construction include the track, varsity weight room, and the fieldhouse courts.
Spaces open during Phase I include Three basketball courts, the cardio balcony, a weight room, a fitness studio, and locker rooms.
During initial construction activities, there will be no interior connection to the pool.  Instead the pool lobby doors on the Sondheim side of the building will serve as the pool access point.
For an accessible route to the pool please reference the following link: RAC CONSTRUCTION IMPACTS ON ACCESSIBLE ROUTES
The lower level exterior doors on the tennis courtside will be for construction access only except for emergency egress and a designated service delivery.
Please follow all site signage and temporary partitioning to stay safe during the construction duration.
Accessibility is part of the design process, and we work in partnership Accessibility and Disability Services which supports faculty, staff, students and visitors with disabilities. If you have a concern about accessibility, or want to inquire about a disability-based accommodation, please do so through their website.
Thank you for your patience and cooperation as we work to improve recreation facilities for the UMBC community.