Interdisciplinary Life Sciences Building
The ILSB Construction Begins May 1, 2017
The diagram below represents the impact of ILSB construction activities during the first six months of construction, beginning May 1, 2017. Construction fencing and barricades are represented by the red outline in the diagram below. The construction logistics diagrams for future phases of construction will be posted here prior to that phase of work.
As always, the Project Team appreciates the public's patience as we begin work on this important project. If you have any questions or concerns, please contact us.
Construction Logistics Diagram: May 2017 – November 2017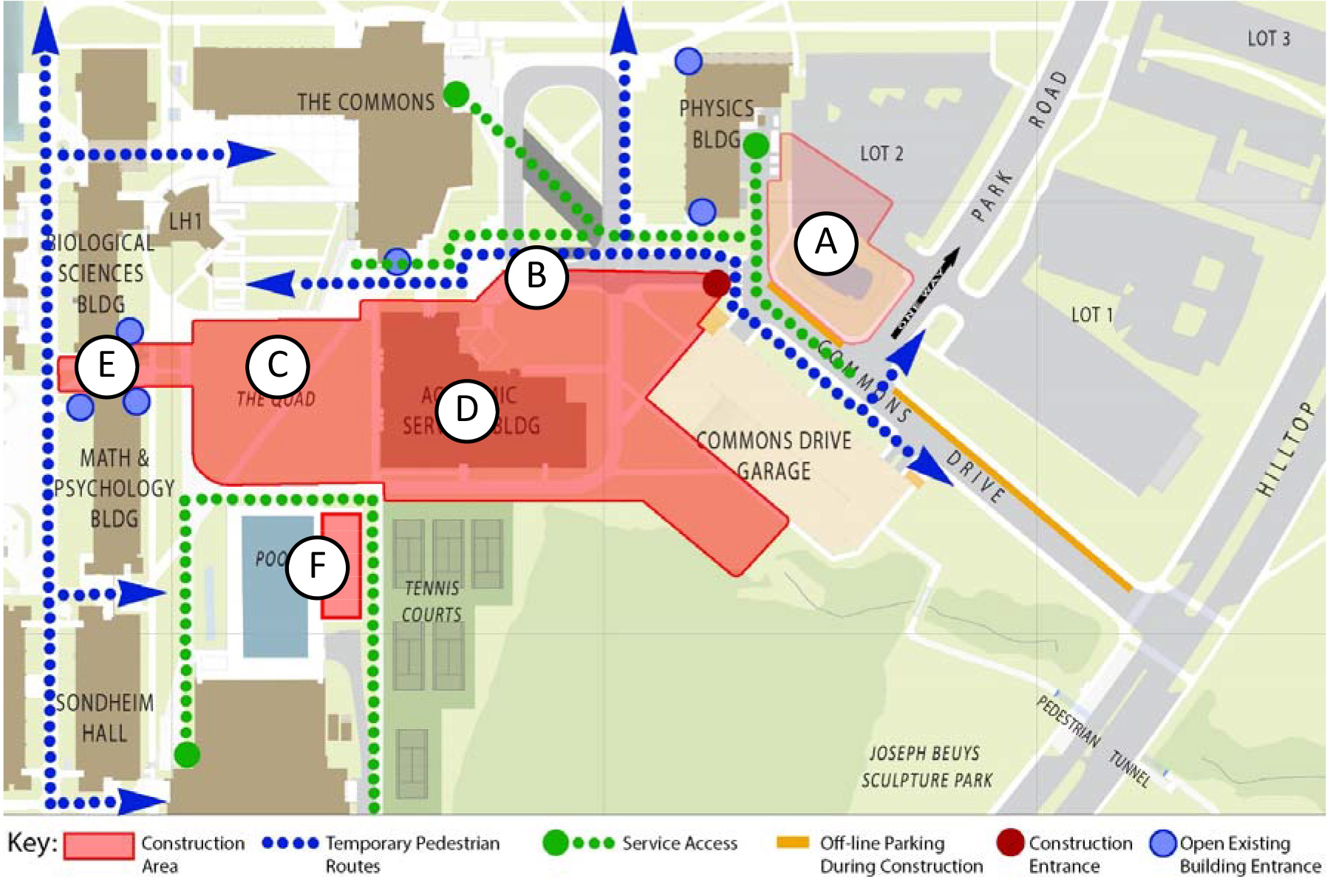 A: Construction of new drop-off area.
Reduction in parking spaces for the gated E permit faculty/staff Lot 2 for construction of new Commons pick-up/drop-off circle, to be completed by the end of summer 2017.
Commons Drive and Garage will remain open throughout the entirety of the project with only minimal interruption.
Due to safety concerns and width limitations of the road, curbside parking on the north side of Commons Drive will be removed to allow for safe travel of construction equipment to the site.
B, C, E: Utility work associated with the ILSB project.
Access between the north and south sides of the Quad will be interrupted during the first 6 months of construction.
Exterior stairs between Math/Psych and Biology Buildings will be closed for the first 6 months of construction.
D: Demolition of Academic Services Building to accommodate the new ILSB.
F: Project staging area
Restricted area of campus reserved for construction staging and equipment.